5 Easy Ways To Rank In Google Maps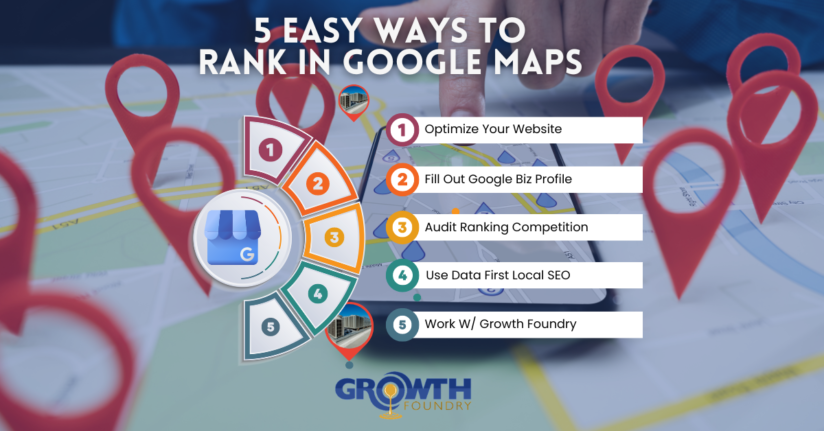 1. Optimize Your Website
Google is an algorithm which relies on you telling it what your business is about. You need to make sure your content properly explains to Google about your business such as:
Who you are
What services you provide
What areas you service
One of the best ways to do so is to properly use Header Tags (H1, H2, H3) to show Google what is important on your site. There is a lot of strategy that goes into proper core technical SEO & content creation the Google algorithm will love.
2. Fill Out Your Google Business Profile
COMPLETELY!
Over 95% of GBP profiles we look at for Local Maps have severe deficiencies when it comes to the information on their Google Business Profile.
Description – should be 500-750 words talking about who, what, where & service area.
Q & A's – Questions & Answer should be created to explain to clients & Google what your business is, what services you provide, what areas you provide them.
Reviews – respond to EVERY review!
Products & Services – Create content about each service your business provides.
Posting – You should be posting on your Google Business Profile a minimum of 3 times per week. Using software like LINDA LOCAL makes this easy by allowing your to schedule months in advance at a time.
Photos – You should be uploading at least 1-2 photos per week of the services you provide. LINDA LOCAL is great here too, allowing you to schedule photo posts to GBP months in advance!
3. Audit Ranking Competition
This one takes some SEO knowledge.
Google leaves clues as to what they want to see to rank a business in the local map packs. You can uncover these clues by looking at the businesses which are already in the map packs. Some things you may look at:
How their content is written
Backlinks & citations
Business Mentions
This strategy requires in-depth local SEO knowledge but is the most powerful. It is the most powerful because it relies exactly on the DATA Google is showing it wants to see to make a business rank high in the map pack.
4. Use Data First Local SEO
Ranking in the maps pack across your entire services area is NOT magic. Data fuels all business decisions from how many people to hire to which markets we should open a business in. It is exactly the same for an experience SEO Strategy.
We utilize the data from 1,000's of past winning campaigns & the data from auditing the exact competition in an area to provide a robust SEO strategy that produces results.
5. Work With Growth Foundry
By working with Growth Foundry, you get access to the Data First Local SEO Model created by ranking 1,000's of Google Business Profile's into the maps. You get deep competitor audit data installed into your campaign by high level SEO orchestration.
If you are ready to dominate Google Local Maps across your entire service area, drop us a message and lets get you set up with a GEOGRID audit & show you're the massive ROI by dominating your map pack!