Case Study: Connecticut Roofer Adds $1.3m Year 1 Partnering With Growth Foundry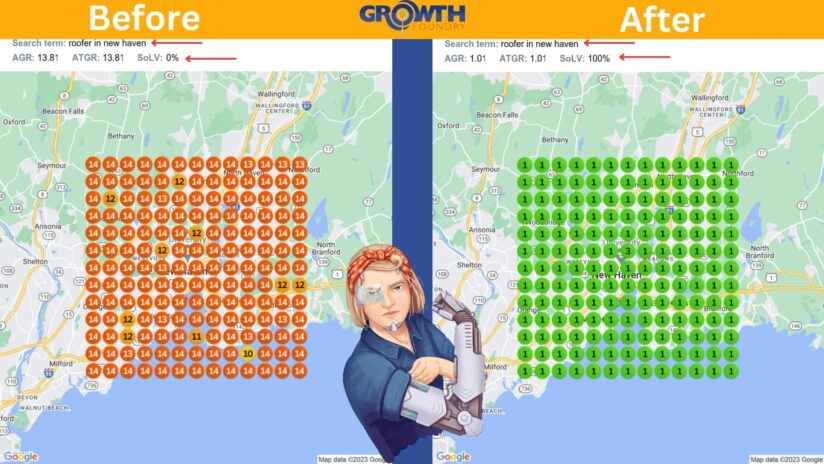 One Page Case Study: Roofing Contractor in New Haven CT Skyrockets Quality Leads & Fills Calendar With Job Ready Customers 👇
Read time: Less than 5 minutes
New Haven Roofing Company Harnesses the Power of The Jobs Foundry System To Schedule Projects Months Ahead & Generate $1.3 Million in Year 1 Revenue!
At Growth Foundry we are thrilled to share the consistent growth achieved with the Jobs Foundry System for a client in the roofing contractor space.
Applying our "data-first" local SEO tactics as part of the Jobs Foundry System, we've succeeded in dominating the search term "Roofer in New Haven" over their entire service area. Our client now appears prominently for the 70% of people using Google, who head straight to the map pack when searching for roofing services.
Showing up in a wider service area on Google Maps has put this roofer front & center where most people choose a local business from. It is no secret that most people go directly to the Maps Section during their Google search because it gives them easy access to reviews, click to call phone number, directions & website information.
Clients choosing a business from the map pack have organic belief that they are choosing "the best" business local to them because they found them in the map pack. This has led to nearly double the closing rate for our client due to:
High intent – they are actively searching for the service
Organic trust in their choice as the best business, made based on map pack selection
Exclusive leads – not shared with multiple contractors, no "race to the bottom"
The high-quality inquiries from the Google Local Map Pack resulted in a 1,344% ROI in the first year by adding an additional $1.3 million in revenue to our client's bottomline.
By partnering with Growth Foundry, our client could move away from purchasing low-quality "pay per lead" calls from services like Home Advisor & Angi's, eliminating the need to pay for unreliable leads and incorrect contacts. All while avoiding the "race to the bottom" on price because our client has become the local authority when property owners need roofing in New Haven.
Project Overview: "Roofer in New Haven"
Objective – Enhance high-intent customer leads that outperform PPC and purchased pay-per-lead services by achieving top rankings in Google Local Maps.
Population – 863,700
Competition Intensity – Extreme
Strategy Deployed – Data-First Local SEO Optimization With The Jobs Foundry System
The Challenge: Show Up In Google Maps Across The Entire Service Area For Roofing Searches To Drive High-Intent Property Owners To Our Client
Our client was struggling to generate leads and grow their business due to inadequate search engine visibility. They reached out to Growth Foundry for help to strengthen their online presence and attract more local customers.
They aimed to appeal to high-intent potential customers searching for roofing services by dominating the Google "Map Pack". The leads generated from here inherently believe they are partnering with the top company in their area.
Their goals included reducing dependence on costly PPC (Google Ads), producing more high-intent inquiries, and halting payments to Angi's and Home Advisor for inferior "leads". They were exasperated with pursuing homeowners only to be overlooked or lose to another contractor due to cut-throat pricing of shared leads.
Before collaborating with Growth Foundry, our client was not appearing in the "Google Local Map Pack" for high-intent searches.
Growth Foundry's Local SEO Approach
To help our client win the majority of search results for "Roofer in New Haven," we implemented an in-depth local SEO strategy using our "Data-First" methodology.
Every business decision requires accurate data.
Our experienced team leverages data from our thousands of successful campaigns to formulate an effective ranking strategy and budget. We go beyond this by auditing our client's specific location, GMB, website, and the top competitors in their local area. This data enables us to develop a strategy with a win rate over 96% in dominating Google Local Map Packs across the entire service area.
Every decision made is backed by data. Building of client's web presence to dominate Google Maps is guided by a wealth of analytical insights. By mining data from thousands of successful campaigns, we can craft an effective strategy tailored to the unique location & niche of each client.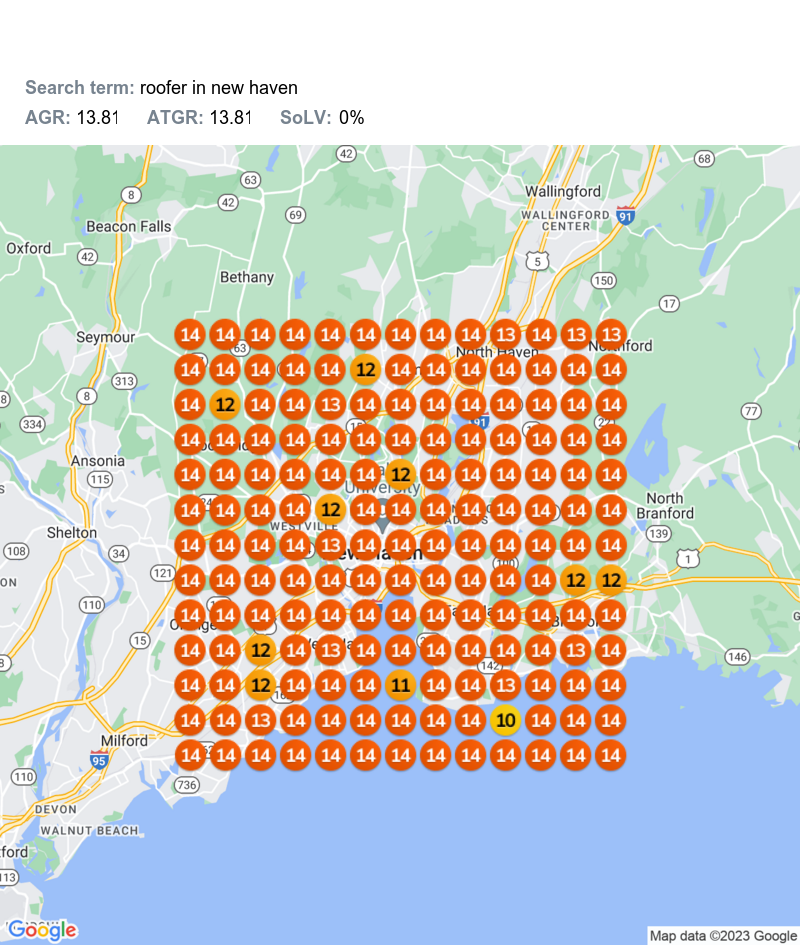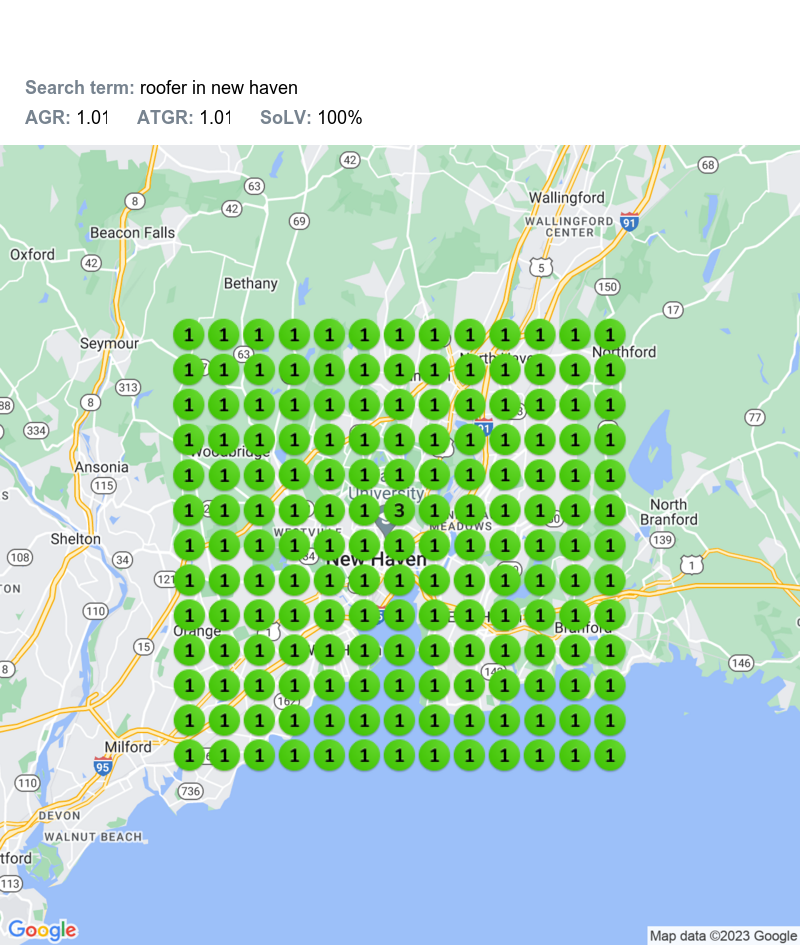 The Outcome: $1.3 Million Added in Year 1 From The Jobs Foundry System
Due to our advanced "Data-First" local SEO strategy within the Jobs Foundry System, our client continuously controls the search results for "Roofer in New Haven." Enhanced online visibility has significantly increased organic traffic, phone inquiries, and high-intent leads from the Google Local Map Pack. These leads inherently believe they are choosing the "best roofing company," as they discovered the company in the Map Pack. Our client's close rate has soared to nearly 48% because of the quality of inquiries they are now receiving.
No more chasing leads only to be ghosted.
No more "race to the bottom" on pricing.
No more paying for a lead only to see 5 other trucks show up at the same time.
No more refund requests to Home Advisor & Angi only to be denied.
Conclusion 👇
Investing in dominating the Google Local Map Pack continues to yield significant ROI for local businesses. Almost 70% of all traffic searching for a local home service business go directly to the "Map Pack." It's likely you've done the same when searching for a needed service. Your first stop? The map listings.
Improved local visibility also indirectly boosts other forms of advertising and referrals as clients perceive you as an authority in your area.
The Jobs Foundry System is a tried and tested method to scale your business! Ready to implement the Jobs Foundry System? Let's talk about your business – schedule a call! 👇