Case Study: Paving Contractor in Santa Rosa CA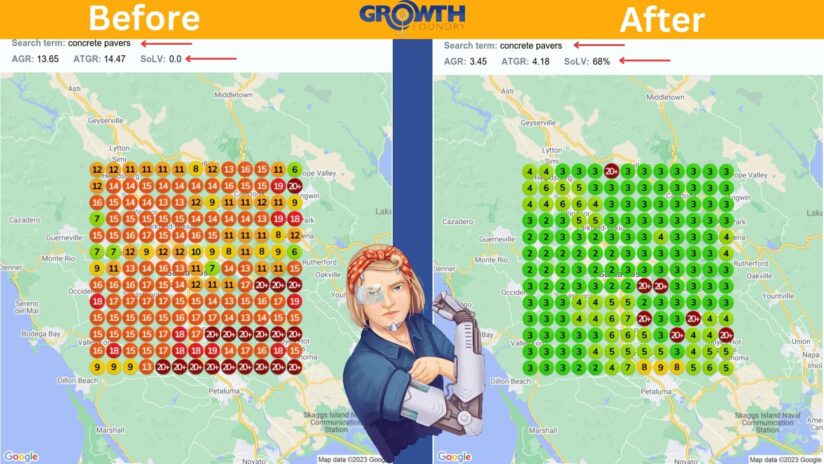 One Page Case Study: Paving Contractor in Santa Rosa CA👇
Read time: Less than 5 minutes
Santa Rosa Paving Contractor See 124% Uptick In Quality Leads Working With Growth Foundry
At Growth Foundry, a premier local SEO agency, we are excited to present the remarkable results achieved for a client operating in the home service industry, specifically the fiercely competitive paving niche.
Implementing our specialized local SEO tactics, we've successfully dominated the entire service area for the search term "Concrete Pavers" & many other high-intent search terms leading to an impressive 124% increase in quality lead generation. (See the photo above for rank domination)
Our constant ranking enhancements are due to our battle-tested "Data First" Local SEO system, which includes:
Accumulated data from thousands of previously successful campaigns
Auditing data from the client and competitors
Our team of engineers reverse-engineering Google Ranking Patents & Updates
Sustained development of quality signals
Using core technical SEO skills to set up a strong foundation for ranking
The Challenge: Boosting Local Search Visibility for a Paving Contractor in Santa Rosa CA
Our client, a respected paving contractor in Santa Rosa CA, was struggling to generate leads and expand their business because of inadequate search engine visibility. They turned to Growth Foundry to enhance their online presence and connect with more local customers.
Their primary goals were to decrease dependency on high-cost PPC (Google Ads), generate more high-intent inquiries, and avoid paying for substandard "leads" through platforms like Angi's and Home Advisor.
Before joining forces with Growth Foundry, our client wasn't appearing in the "Google Local Map Pack" for high-intent customers. We assisted them in dominating their entire service area, leading to a 124% increase in quality leads.
Project Overview: "Paving Contractor in Santa Rosa CA"
Objective – Increase high-intent customer leads that outperform PPC and purchased pay-per-lead by securing top ranks in Google Maps
Population – 177,586
Competition Intensity – Extreme
Strategy Employed – Data First Local SEO Optimization
Growth Foundry Local SEO Strategy
To empower our client to become the local authority for search results pertaining to "Paving Contractor in Santa Rosa CA," we developed a comprehensive local SEO strategy using our "Data First" methodology, which consistently delivers results for our clients.
The strategy incorporated:
Detailed competitor analysis to devise a data-driven ranking roadmap using Google ranking patents
Comprehensive keyword research to identify the most valuable and relevant search terms for their business
Optimizing their website's on-page SEO, including title tags, meta descriptions, header tags, internal linking, authoritative content, schema, and more
Crafting high-quality, localized content to captivate target audiences and boost search engine rankings
Building authoritative, local backlinks to increase their website's domain authority and credibility
Ensuring their Google My Business listing was optimized and current to improve local search visibility
The Results: Dominating the Search Results & 123% Increase in Lead Generation
Thanks to our local SEO strategy, our client now dominates search results for the term "Paving Contractor in Santa Rosa CA." This enhanced online visibility has spurred a significant rise in organic traffic, phone calls, and leads, particularly high-intent leads from the Google Local Map Pack. These leads inherently believe they are selecting the "best paving contractor" in their local area, due to their discovery in the Map Pack.
In the end, the quality lead flow increased by a remarkable 123%, demonstrating the potency of a well-executed local SEO campaign.
It is crucial to remember that the highest quality inquiries for a local business come from the "Google Local Map Pack." This is because people inherently feel that when they choose a business from the Map Pack, they are working with the most superior local service provider.