Case Study: Roofer in Fort Worth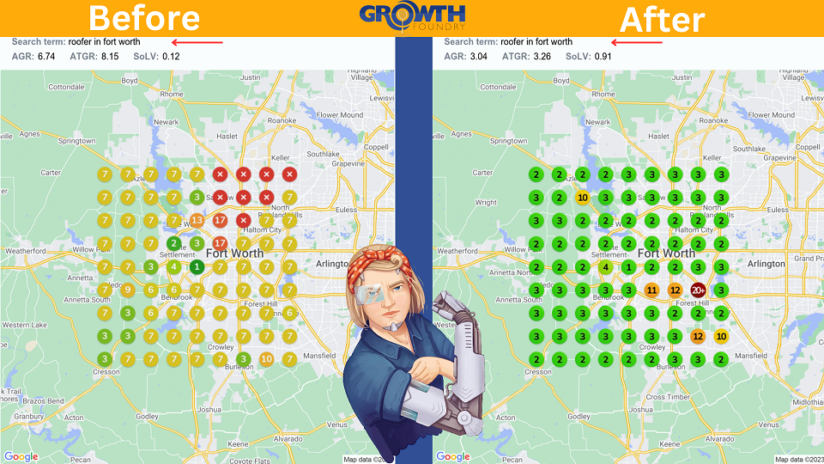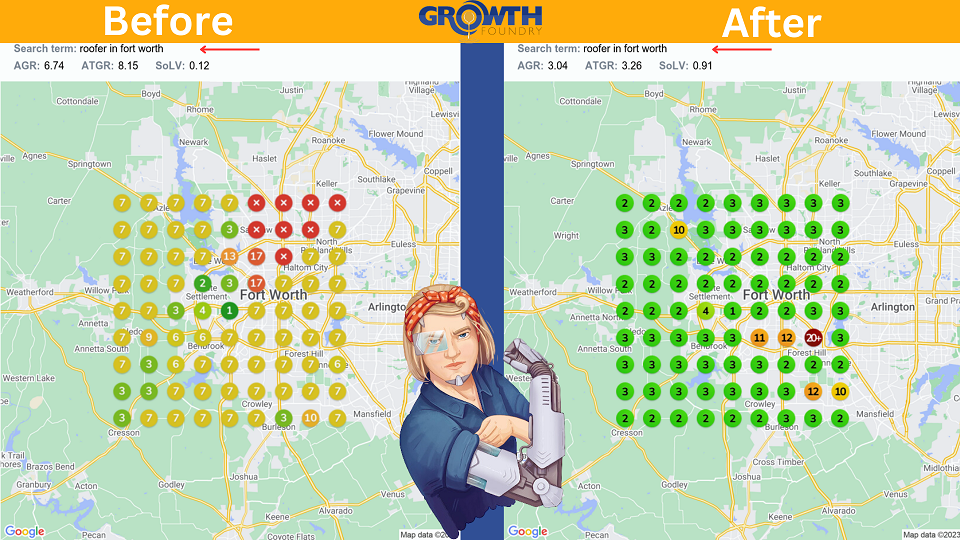 One Page Case Study: Roofer in Fort Worth 👇
Read time: Less than 5 minutes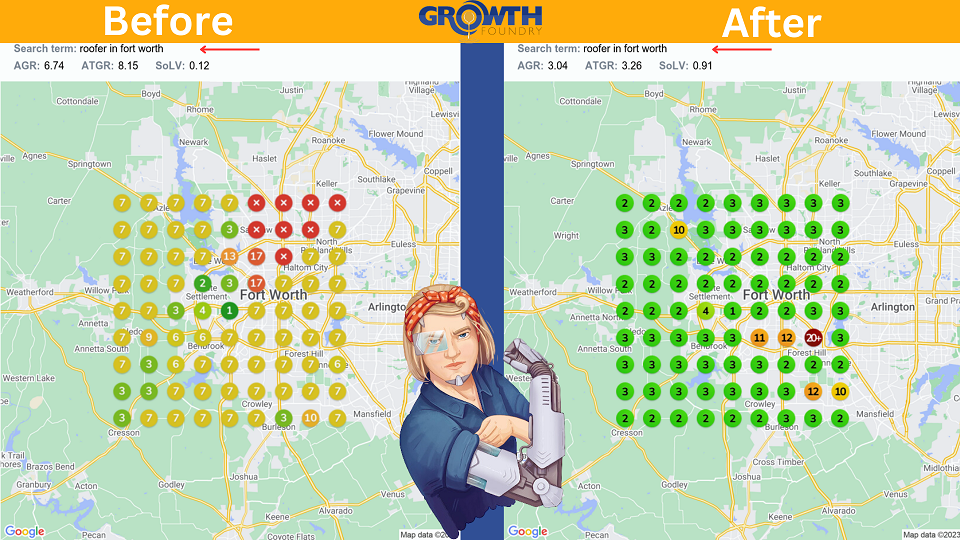 Fort Worth Roofer Dominates Entire Service Area & Increases Closed Jobs By 200%
At Growth Foundry, a leading local SEO agency, we are thrilled to share the incredible results achieved for a client in the home service industry, the competitive roofing niche.
With our expert local SEO strategies, we have successfully dominated the entire service area for the search term "Roofer in Fort Worth" and increased our client's closed jobs by over 200%. (See photo above for rank domination)
The consistent ranking increases are achieved due to our award winning "Data First" strategy to improve rankings. The data first strategy relies on:
1,000's of Past successful campaign data
Client & competitor audit data
Team engineers reverse engineering Google Ranking Patents & Updates
Consistent building of quality signals
Core technical SEO skills to create the proper foundation for ranking to occur
The Challenge: Increasing Local Search Visibility for a Roofer in Fort Worth
Our client, a reputable roofing company in Fort Worth, was struggling to generate leads and grow their business due to low search engine visibility. They approached Growth Foundry to help them boost their online presence and attract more local customers.
They wanted to stop relying on extremely high cost PPC (Google Ads), create more high intent inquiries, & avoid continuing to pay Angi's & Home Advisor for sub-par "leads."
When they came to us at Growth Foundry, they were not being found in the "Google Local Map Pack" by high intent customers.
Upon working with Growth Foundry, we assisted to dominate the entire service area and produce a 200% increase in closed jobs.
About "Roofer in Fort Worth"
Project – Increase high-intent customer leads that close better than PPC & buying pay per lead through top ranks in Google Maps.
Population – 1 million
Competition Level – Extreme
Strategy used – Data first local SEO optimization
Our Local SEO Strategy
To help our client dominate the search results for "Roofer in Fort Worth," we implemented a comprehensive local SEO strategy using our "Data First" methodology to obtain consistent results with clients we work with.
This included:
Extreme competitor research to validate the ranking roadmap based on the data first model using google ranking patents.
Conducting in-depth keyword research to identify the most relevant and valuable search terms for their business.
Optimizing their website with on-page SEO best practices, including title tags, meta descriptions, header tags, and internal linking, authoritative content, schema, &
Creating high-quality, localized content to engage their target audience and improve search engine rankings.
Building authoritative, local backlinks to increase their website's domain authority and credibility.
Ensuring their Google My Business listing was optimized and up-to-date to improve their local search visibility.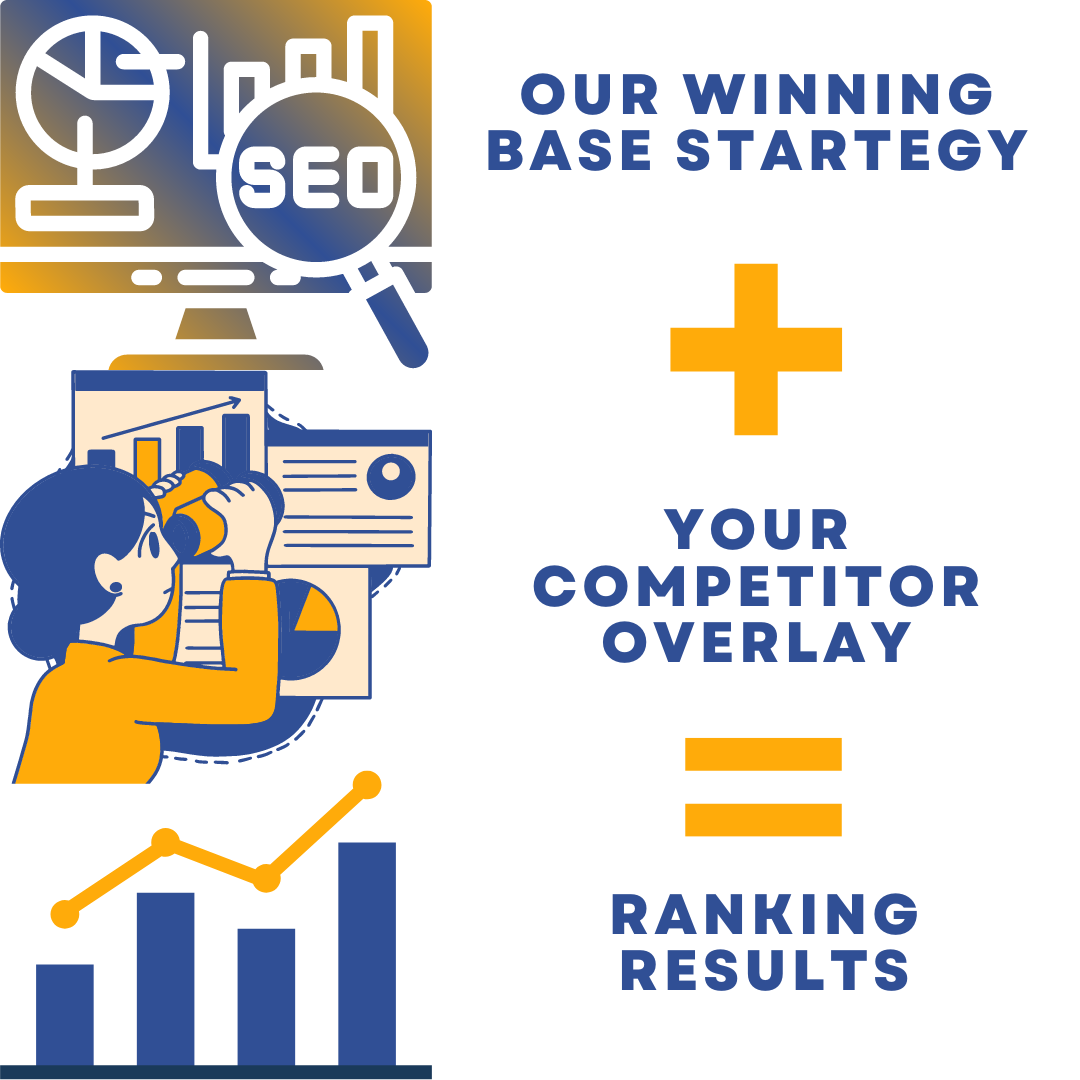 The Results: Dominating the Search Results & 200% Increase in Closed Jobs
As a result of our local SEO strategy, our client now dominates the search results for the term "Roofer in Fort Worth." This increased online visibility has led to a significant uptick in organic traffic, phone calls, and leads. Specifically, high-intent leads coming from the Google Local Map Pack who have an innate mindset that they are choosing the "best roofer" to work with in their local area because they found them in the Map Pack.
Ultimately, their closed jobs have increased by over 200%, showcasing the power of a well-executed local SEO campaign.
It is important to understand that the highest quality inquiries for a local business are coming from the "Google Local Map Pack." This is because people have a innate feeling that when they choose a business in the Map Pack, they are working with the BEST business local to them!
Conclusion 👇
Growth Foundry's local SEO expertise has helped our client, a roofer in Fort Worth, dominate their service area and enjoy a substantial increase in closed jobs. If you're a home service business looking to improve your online presence and attract more local customers, contact Growth Foundry today to learn how our local SEO strategies can help you achieve your goals.