Case Study: Fence Installation in Phoenix AZ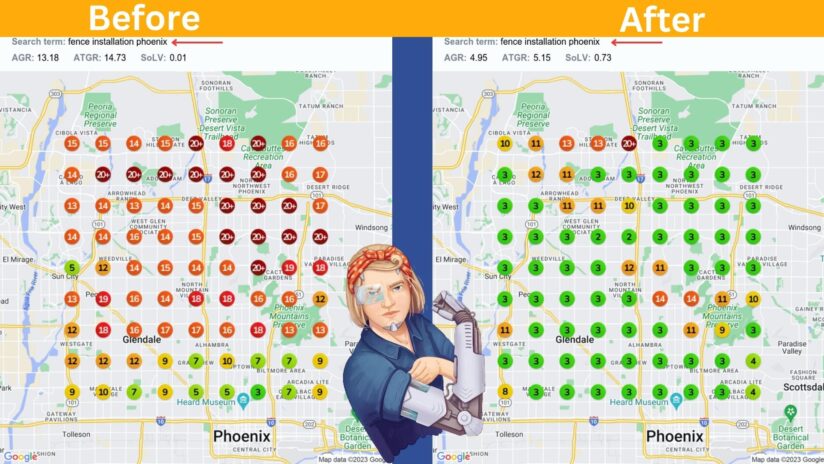 One Page Case Study: Fence Installation in Phoenix AZ 👇
Read time: Less than 5 minutes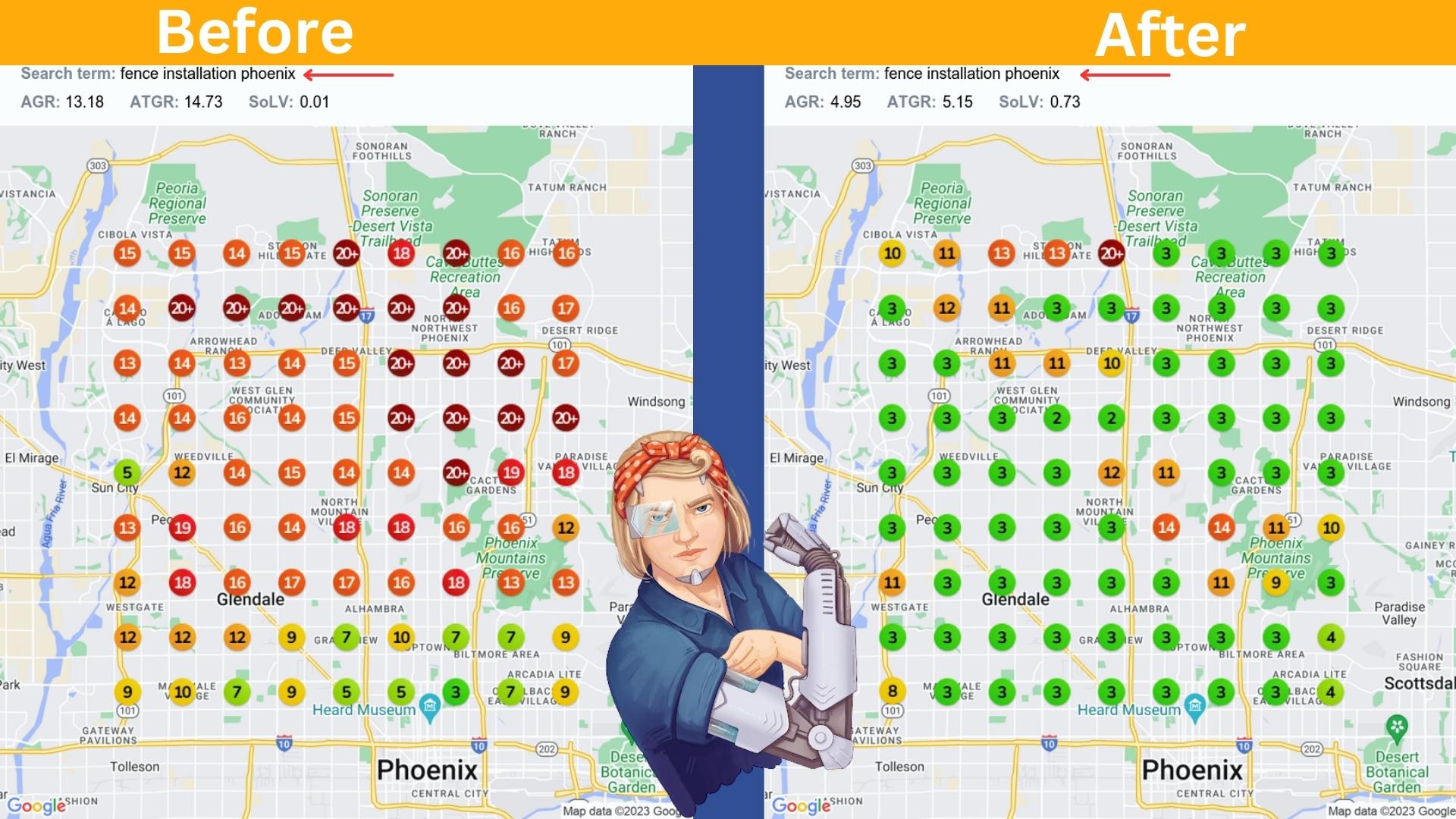 Phoenix Fence Company Company Increases Quality Leads By 267% Working With Growth Foundry
At Growth Foundry we are delighted to showcase the incredible outcomes achieved for a client operating in the home service industry, specifically the competitive fence contractor niche. To make it even more competitive, this specific client is Phoenix Arizona, a densely populated metro creating stiff competition for nearly every local business niche.
Through the application of our expert "data-first" local SEO techniques, we've effectively dominated the entire service area for the search term "Fence Installation Phoenix," This resulted in a 267% increase in high quality inquires from the Google Local Map Pack creating a 1,288% ROI in year 1.
By engaging Growth Foundry, our client was able to successfully eliminate buying low quality "pay per lead" calls from Home Advisor & Angi's where the continually had to pay for fake leads & bad contacts.
The Challenge: Enhancing Local Search Visibility for a Phoenix Fence Company
Our client, a fence company in Phoenix, faced difficulties in generating leads and expanding their business due to limited search engine visibility. They sought Growth Foundry's assistance to bolster their online presence and appeal to more local customers.
They specifically wanted to get in front of the high-intent potential customers searching for fence installation by dominating the Google "Map Pack". These inquiries have an innate belief they are working with the best company in their area because they were found in the "Map Pack."
Their objectives were to reduce reliance on high-cost PPC (Google Ads), generate more high-intent inquiries, and stop paying Angi's and Home Advisor for substandard "leads."
Before partnering with Growth Foundry, our client was not appearing in the "Google Local Map Pack" for high-intent searches.
Project Overview: "Fence Installation Phoenix"
Objective – Boost high-intent customer leads that outperform PPC and purchased pay-per-lead by securing top rankings in Google Maps
Population – 1.7 million
Competition Intensity – Extreme+
Strategy Employed – Data First Local SEO Optimization
Growth Foundry Local SEO Approach
To enable our client to dominate search results for "Fence Installation Phoenix," we employed a comprehensive local SEO strategy using our "Data First" approach to consistently deliver results for our clients.
No decisions are made in business without proper data.
Our team of engineers can effectively use data from our past winning 10,000's of campaigns to create a proper ranking strategy & budget. We take that a step further.
We audit our client's specific location, GMB & website and the client's top competitors in their exact local area. This gives us the data we need to create an effective strategy with an over 90% win rate on dominating Google Local Map Packs across the entire service area.
The Outcome: 267% Increase Of High Intent Leads Looking For A New Fence
As a direct result of our advanced "Data-First" local SEO strategy, our client continues to dominate search results for "Fence Installation Phoenix." The enhanced online visibility has significantly increased organic traffic, phone calls, and high-intent leads originating from the Google Local Map Pack. These leads hold an inherent belief that they are choosing the "best fence company" in their area, as they discovered the business in the Map Pack.
Our client closed an additional $500,000 of revenue in year one creating a 1,288% ROI.
Conclusion 👇
An investment into dominating the Google Local Map Pack continues to produce massive ROI for local businesses. Nearly 70% of all traffic doing searches for a local home service business, are going directly to the "Map Pack." I am sure you even do it yourself, you Google for a service you need and the first place you begin is with the listings in the map.
Having enhanced visibility in the local market also creates a "trickle down effect" by enhancing any other forms of ads and referrals because clients see you as the authority in your area.