Case Study: Garage Door Installation New Jersey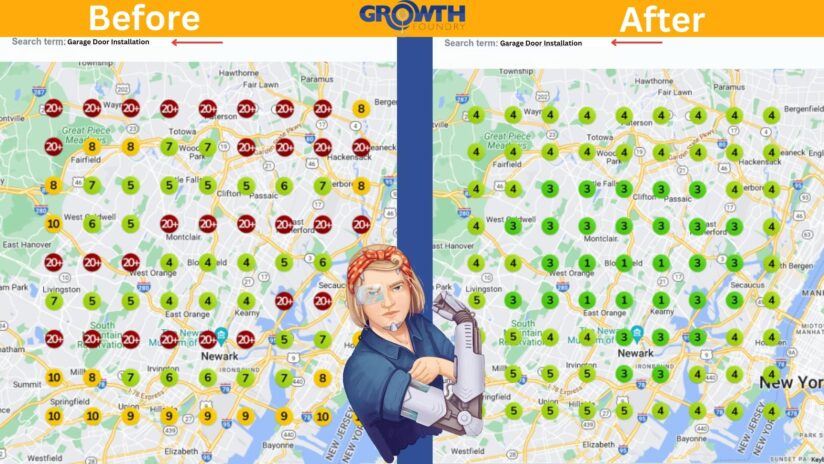 One Page Case Study: Garage Door Installation in New Jersey 👇
Read time: Less than 5 minutes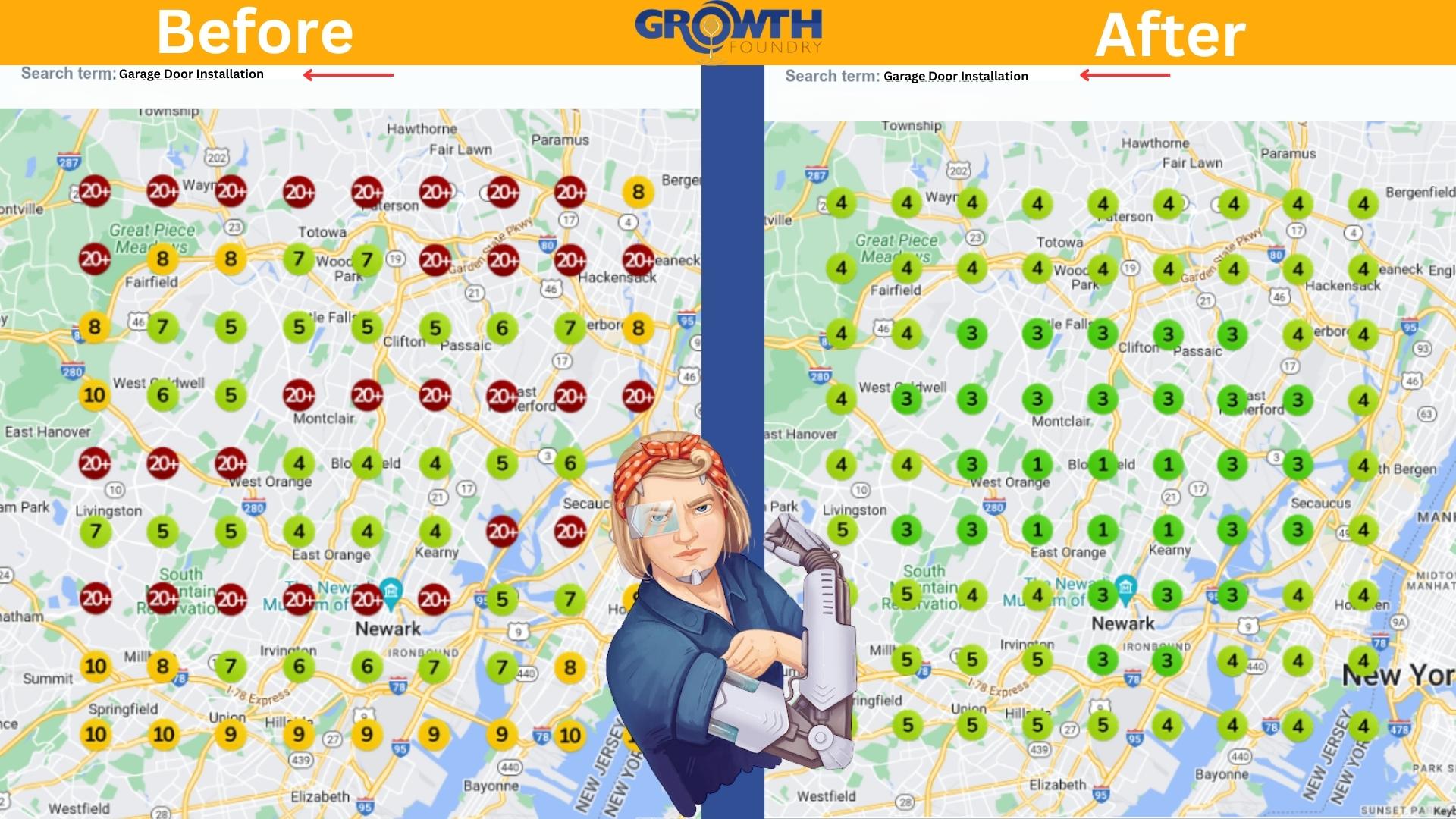 New Jersey Garage Door Company Sees 148% Increase in Quality Lead Flow & 94% Increase in Closed Jobs
At Growth Foundry we are excited to share the remarkable results achieved for a client in the home service industry, the competitive garage door niche. To further increase the competition, this was a full domination across a large population area in New Jersey.
Utilizing our expert local SEO strategies puttin data first, we have successfully dominated the entire service area for the search term "Garage Door Installation" resulting in a 148% increase in quality lead inquires and a 94% increase in closed jobs. (See photo above for rank domination)
The consistent ranking increases are credited to our award-winning "Data First" strategy to improve rankings. The data first strategy relies on:
Thousands of successful past campaign data
Client and competitor audit data
Team engineers reverse engineering Google Ranking Patents & Updates
Consistent building of quality signals
Core technical SEO skills to create the proper foundation for ranking to occur
The Challenge: Increasing Local Search Visibility for a Garage Door Company in New Jersey
Our client, a well-respected garage door company in New Jersey, had hired multiple agencies before us who could not effectively pop the google map pack rankings. This was likely due to poor auditing, no data-first model and limited business entity building for web presence.
Same as most clients, they wanted to grow. The knew they needed to get better quality leads than continuing to buy crappy quality "pay per lead" calls & over spending per click on ads.
They were skeptical that they could win & dominate the map pack as they had been burned before.
Upon understanding the Growth Foundry data-first approach to SEO, the access to 10,000's of past winning campaigns & knowing they would have a team of local ranking engineers who have extensively studied the Google Patents for ranking on their side they chose to invest for absolute domination.
Project Overview: "Garage Door Installation" in New Jersey
Project – Boost high-intent customer leads that outperform PPC and purchased pay-per-lead by securing top rankings in Google Maps
Population – 8.8 million
Competition Level – Extreme++
Strategy used – Data first local SEO optimization
Growth Foundry Solution:
To enable our client to dominate search results for "Garage Door Company in New Jersey," we employed a comprehensive local SEO strategy using our "Data First" approach to consistently deliver results for our clients.
The strategy encompassed:
Intensive competitor research to establish a data-driven ranking roadmap using Google ranking patents
Comprehensive keyword research to pinpoint the most relevant and valuable search terms for their business
On-page SEO optimization of their website, including title tags, meta descriptions, header tags, internal linking, authoritative content, schema, and more
Developing high-quality, localized content to engage target audiences and enhance search engine rankings
Establishing authoritative, local backlinks to boost their website's domain authority and credibility
Ensuring optimization and up-to-date information for their Google My Business listing to improve local search visibility
The Outcomes: 148% Growth in Quality Lead Generation and 94% Increase in Closed Jobs
As a direct result of our local SEO strategy, our client now dominates search results for "Garage Door Company in New Jersey." The enhanced online visibility has significantly increased organic traffic, phone calls, and high-intent leads originating from the Google Local Map Pack. These leads hold an inherent belief that they are choosing the "best garage door company" in their area, as they discovered the business in the Map Pack.
Conclusion 👇
In conclusion, our client experienced a 94% increase in closed jobs, demonstrating the effectiveness of a well-executed local SEO campaign.
It's vital to recognize that the highest quality inquiries for a local business originate from the "Google Local Map Pack." People inherently feel that by selecting a business from the Map Pack, they are working with the finest local service provider.